GECO - SOLAR ENERGY SYSTEM
SOLAR POWER SYSTEM
GECO Solar Power System is specialized in design and selling solar power system products. For solar system mostly use for household power supply, have main charger when non-sunshine, very useful system. Pure sine wave output, can take all inductive loads.
Solar off grid system : solar panel + hybrid inverter (controller, inverter) + Battery (other parts as PV array combiner, rack, cable can optional)
System Application :
Living house and home building
Office building, factory and warehouse
Shopping mall, venue, stadium and so on
Power station, field operation and some huge engineer construction
Good quality, best price, and better technical support and service, make GECO Solar Power System as your most valuable cooperator in renewable energy.
New Energy Leads Low Carbon Life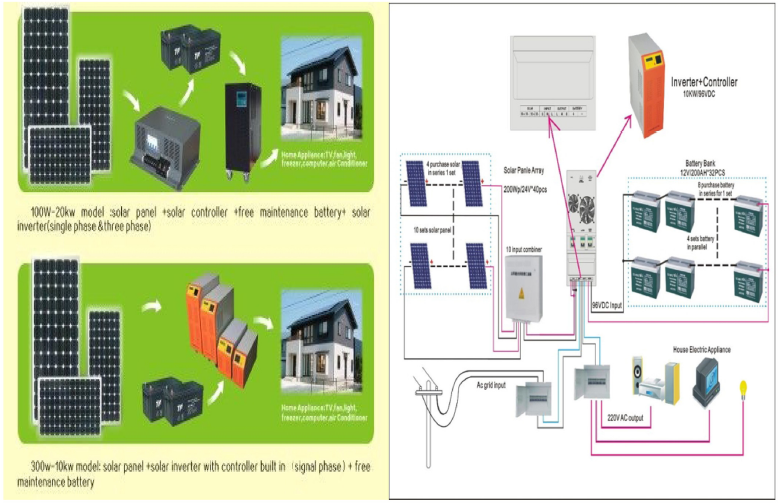 Geco Solar Power System :
Off Grid solar power supply system - GSP - 500 W - 1600 WH
Off Grid solar power supply system - GSP - 1 KW - 3100 WH
Off Grid solar power supply system - GSP - 2 KW - 6200 WH
Off Grid solar power supply system - GSP - 3 KW - 9600 WH
Off Grid solar power supply system - GSP - 5 KW - 16 KWH
Off Grid solar power supply system - GSP - 6 KW - 22 KWH
Off Grid solar power supply system - GSP - 8 KW - 28 KWH
Off Grid solar power supply system - GSP - 10 KW - 31 KWH
Off Grid solar power supply system - GSP - 15 KW - 46 KWH
Off Grid solar power supply system - GSP - 20 KW - 62 KWH
Download : Solar Power System (GECO)